Michael Chin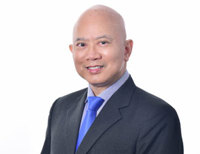 Executive Chairman and Head of Risk Consulting
Email:michael.chin@pkf.com
Direct: (+65) 6500 9389
Michael graduated with honors in Accounting and Finance from Lancaster University, UK and qualified as a UK chartered accountant in 1983. He joined legacy Price Waterhouse ("PW"), London as audit senior in 1983 and with the same firm he worked and lived in Istanbul, Frankfurt and The Hague before returning to the PW office in Singapore in 1990.
In 1994, Michael left PW when he was senior audit manager and joined the Institute of Singapore Chartered Accountants ("ISCA") as the first Practice Review Director to head and run its first practice monitoring programme regulating all audit firms including the international audit firms in Singapore for compliance with work standards and quality.
Before co-founding his business advisory and consultancy firm and audit practice in the second half of 2002, Michael was a partner in Arthur Andersen's Assurance and Business Advisory division in Singapore from 1999 to 2002.
Michael was also a member of Andersen's Technical Committee where he participated actively in resolving issues relating to auditing, financial reporting and accounting, as well as a member of the Partner Expert Network (PEN) Asia Pacific group where he was assigned leadership position in developing and presenting materials on audit sampling for the Asia Pacific region. He was also responsible for administering and managing Andersen's practice monitoring and engagement compliance programme in Singapore.
Michael has been involved in numerous audit engagements of listed companies, multi-national corporations, and small and medium size enterprises in diverse industries. He is also experienced in acquisition due diligence review work, business valuations, IPO reporting accountants' work, internal audit and corporate governance review, financial reporting advisory work for a China company listed on the Singapore Exchange, fraud investigations and litigation support. He has also conducted several public seminars and given lectures to Singapore Management University, the Institute of Singapore Chartered Accountants ("ISCA"), Singapore Exchange Limited and a US multinational corporation on subjects relating to financial reporting and auditing.
Michael is a Fellow (practising) member of ISCA, a Fellow member of the Institute of Chartered Accountants in England and Wales as well as an associate member of the Institute of Internal Auditors, Singapore. He currently serves on the Boards of several listed companies as Audit Committee Chairman. Michael is also a member of the Audit Committee of the Council of Private Education, a Council member of ISCA and the Chairman of the Public Accounting Practice Committee of ISCA.